HCHS will be offering a Summer Academy for students who wish to enroll in credit recovery or summer enrichment sessions. Students who wish to attend should fill out the Google Form below no later than Monday, May 10.
https://forms.gle/nimFzaFEK9eShHRE9


Caps and gowns will be given out to IN PERSON seniors on Friday, April 23 during 1st period. We will have a drive thru pick up for VIRTUAL seniors Wednesday, April 28 from 1pm-3pm at bus pickup outside the auditorium.


HCHS Seniors: Graduation packets are available now. Click the link to download or pick up a copy from outside Ms. Posey's room (229). There is a form which must be filled out, signed and turned in by May 7. Caps and gowns will be distributed sometime during the week of April 26. Students should watch social media and their school email. Click this link to download:
https://5il.co/rl9t

Picture retakes will be on Friday, April 16 from 8 am-11:30 am at Harrison County High School. See attached picture for details.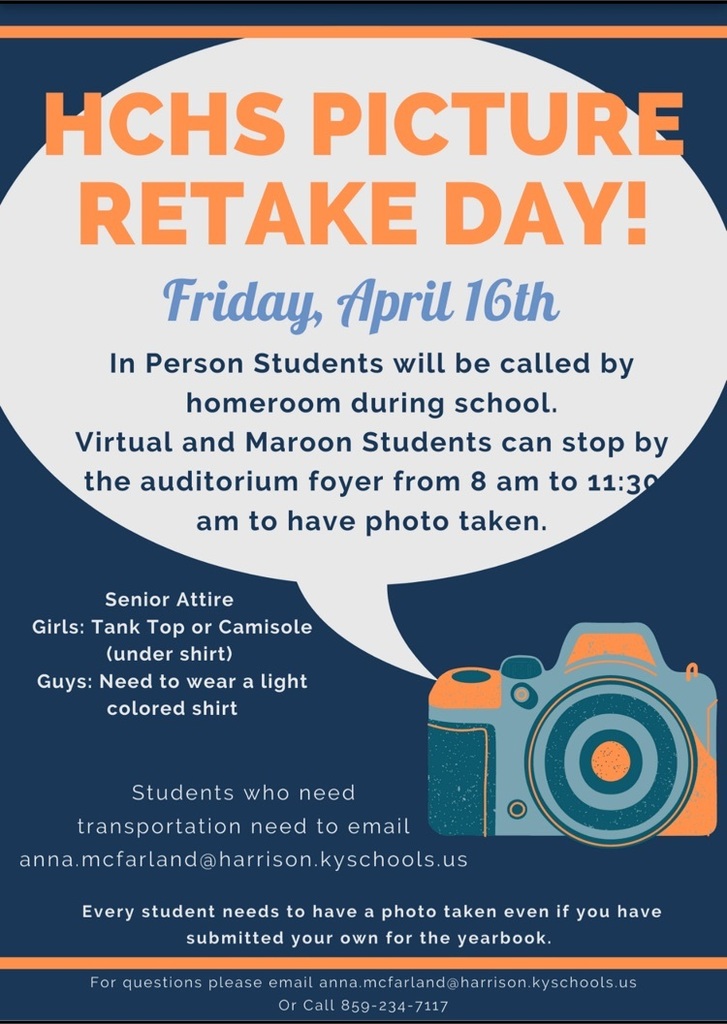 Alive at 25 classes are begin offered via Zoom for students to fulfill their Graduated Driver's Licensing requirement to get their full, unrestricted license. Students can register at
www.kentuckysafedriver.com
or by calling 502-699-2295.

Harrison County High School juniors and seniors: Prom will be held on May 8th at Ashford Acres from 7:30 p.m. until 10:00 p.m. Only HCHS juniors and seniors are permitted to attend. No outside guests will be allowed. Attire may be formal or semi-formal. Due to COVID-19 restrictions, masks will be required. Tickets will be available on Wednesdays April 14th, 21st, 28th and May 5th from 9:00 am.m until noon and on Fridays April 16th, 30th and May 7th during lunch. Tickets are $25 apiece. Please contact Tammy Snider or Tiffany Honeycutt with any questions or concerns.

Picture day for Harrison County High School is this Friday, March 12th. In-seat Gold students will be called by homeroom. Virtual and Maroon students can arrive between 11 and 1 at the auditorium foyer entrance. Temperatures will be taken and social distancing will be enforced. If a student cannot make it on Friday they will need to attend the make-up date on April 16th. Senior girls need to wear an undershirt that can have the straps pulled down. Senior guys need to wear a light colored t-shirt.


E-Day Live is free to attend! Register online and check it out!


Exciting news! Harrison County High School has received @CollegeBoard's Female Diversity Award for AP Computer Science A. We're so proud of the young women exploring STEM and computer science through this course. #APCSA

Kentucky Safe Driver is still offering Alive at 25 classes, just on Zoom! Students can still register by going to
www.kentuckysafedriver.com
and clicking on "Alive at 25" under "Courses" or by calling our office at 502-699-2995.

Harrison County High School boys basketball tryouts for football players are Monday, December 14th at 6 p.m. in the HCHS gym. Report to the gym doors beside the cafeteria by 5:45 p.m. Bring your own water bottle and work out clothes.

There will be no in-person Alive at 25 safe driver classes until further notice. Those who wish to complete the class may do so through Zoom, and should go to
www.kentuckysafedriver.com
to register or call 502-699-2995. From the site: find "Alive at 25" under "Courses"



Harrison County High School students returning to in-seat instruction may bring their own devices, including smartphones, laptops, personal Chromebooks or school issued Chromebooks. For those students who cannot bring a device, HCHS classrooms with be equipped with some Chromebooks for students to use during the school day. In-seat instruction will continue to utilize Google Classroom.

Harrison County High School will be open Monday, October 5 through Friday, October 9, 2020 from 1 p.m. to 3 p.m. for any incoming freshmen or new students, along with a parent or guardian, to come walk through the building. Enter through the front door to check in. Everyone must be masked and follow social distancing guidelines.