HCHS Spirit Week and Costume Contest are coming! Join in the fun and have the chance to earn prizes! Sponsored by HCHS Student Council.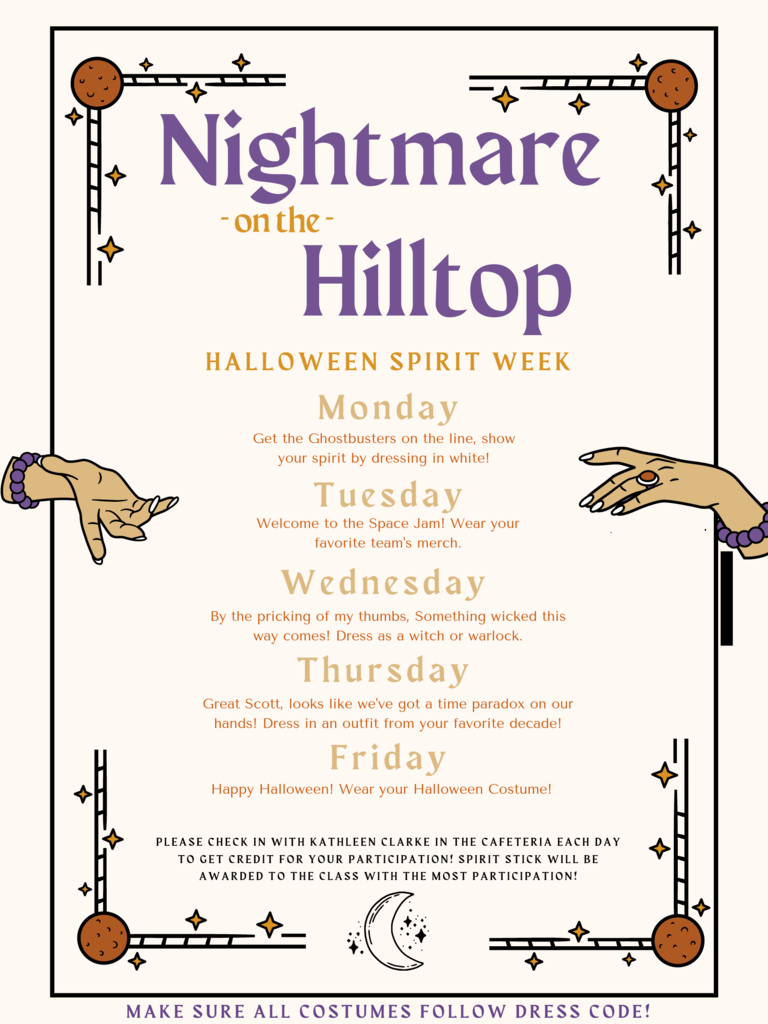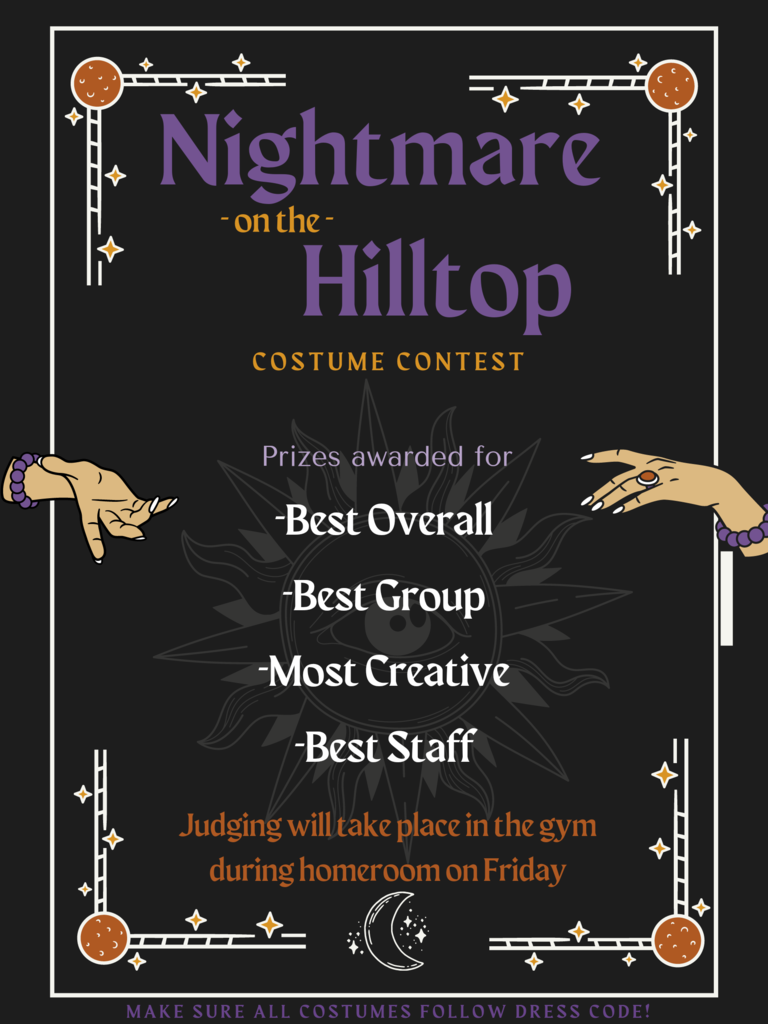 The Alive at 25 driver awareness course will be offered in the HCHS library on Wednesday, October 27 from 4-8 pm. Sign up online at
https://kentuckysafedriver.com

Tutoring available at HCHS! Please click on the image below for details.


The Alive at 25 driver awareness course will be offered in the HCHS library on Wednesday, September 22, 2021 from 4-8 pm. Sign up online at
https://kentuckysafedriver.com


SBDMC meetings are held on the second Thursday of every month at 4:15 p.m. in the HCHS Library. *During COVID restrictions concerning gatherings, SBDMC will meet virtually. To attend, please call 859-234-7117 or send a private message to
susan.yearsley@harrison.kyschools.us
to receive a link once your attendance is verified.

The Harrison County School District, in partnership with the WEDCO Health District, is hosting a vaccination clinic for HC students ages 12 and up on Wednesday, August 4th, from 5 - 7 pm. Unlike getting the vaccine in other locations, HC students will not need their birth certificate as their age will be verified with school records. The vaccine is the number one way to mitigate the effects of Covid on yourself and others. Unless one develops symptoms, there is no requirement for vaccinated students or staff to quarantine if exposed.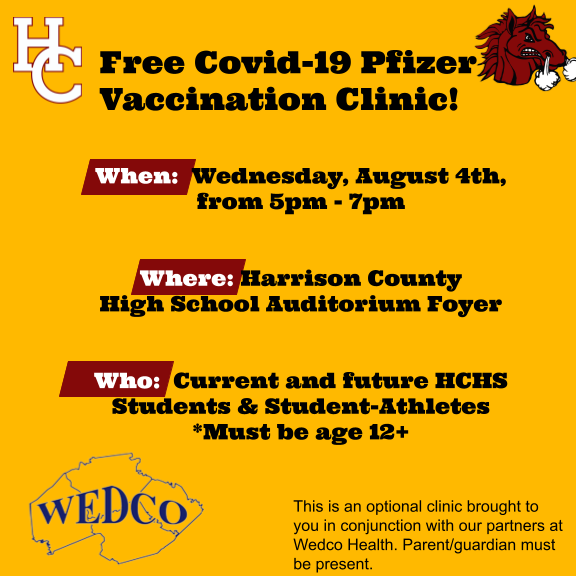 HCHS will have registration for students August 3-6 from 9am-3pm. This will be open to all grades 9-12. Students will pick up schedules, pay fees, get parking spots and tour the building/find their lockers. On Thursday, August 5, HCHS will host an open house from 5:30-7:30pm for all students grades 9-12. Students will get to meet their teachers this evening.

Due to the changes in COVID guidance, Ingles Stadium WILL BE OPEN after graduation on May 21, 2021. We want our students and families to have the traditional opportunity to meet and gather after the ceremony, (at your discretion).

School pictures are in. If your student has not yet picked his/hers up, they are available in the front office.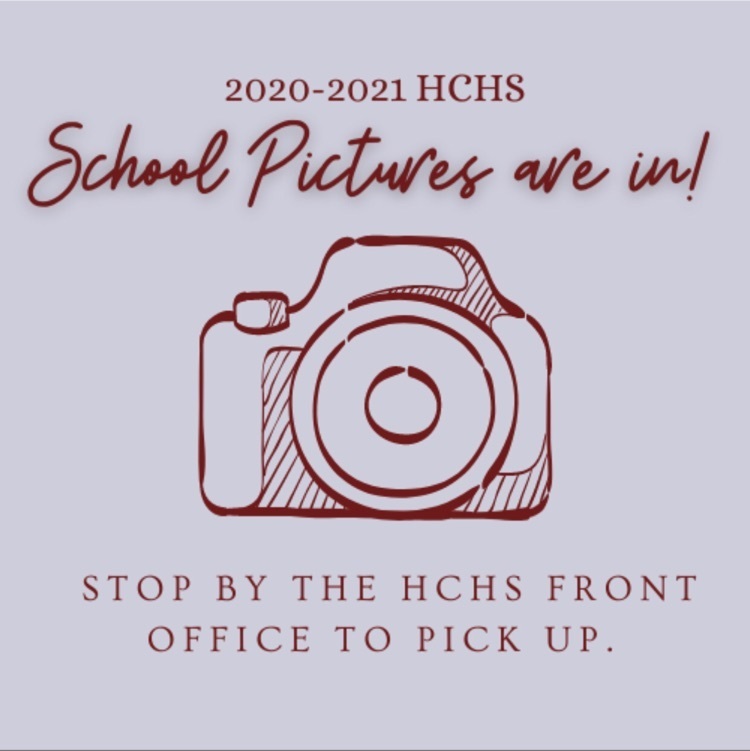 Chromebooks that have been issued to HCHS students will be collected in the coming week. Students will need to return the chromebook and its assigned charger according to the following schedule: Seniors: Bring your devices to the auditorium foyer prior to graduation practice this Thursday and Friday, May 13 and 14 for collection. Underclassmen: Bring your devices with you to homeroom on Monday and Tuesday, May 17 and 18 for collection. Virtual Students: Bring your devices to the HCHS auditorium foyer on Wednesday, May 19 from 9-11 am or from 2-4 pm. If you are unable to make it at this time, please email Mrs. Garrison at
kyra.garrison@harrison.kyschools.us
to schedule a time prior to May 19 for collection. Devices must be returned with the appropriate charger, and will be assessed for any damages upon return. Damage or replacement fees will be assigned per the User Agreement signed when the device was issued.

HCHS will be offering a Summer Academy for students who wish to enroll in credit recovery or summer enrichment sessions. Students who wish to attend should fill out the Google Form below no later than Monday, May 10.
https://forms.gle/nimFzaFEK9eShHRE9


Caps and gowns will be given out to IN PERSON seniors on Friday, April 23 during 1st period. We will have a drive thru pick up for VIRTUAL seniors Wednesday, April 28 from 1pm-3pm at bus pickup outside the auditorium.


HCHS Seniors: Graduation packets are available now. Click the link to download or pick up a copy from outside Ms. Posey's room (229). There is a form which must be filled out, signed and turned in by May 7. Caps and gowns will be distributed sometime during the week of April 26. Students should watch social media and their school email. Click this link to download:
https://5il.co/rl9t

Picture retakes will be on Friday, April 16 from 8 am-11:30 am at Harrison County High School. See attached picture for details.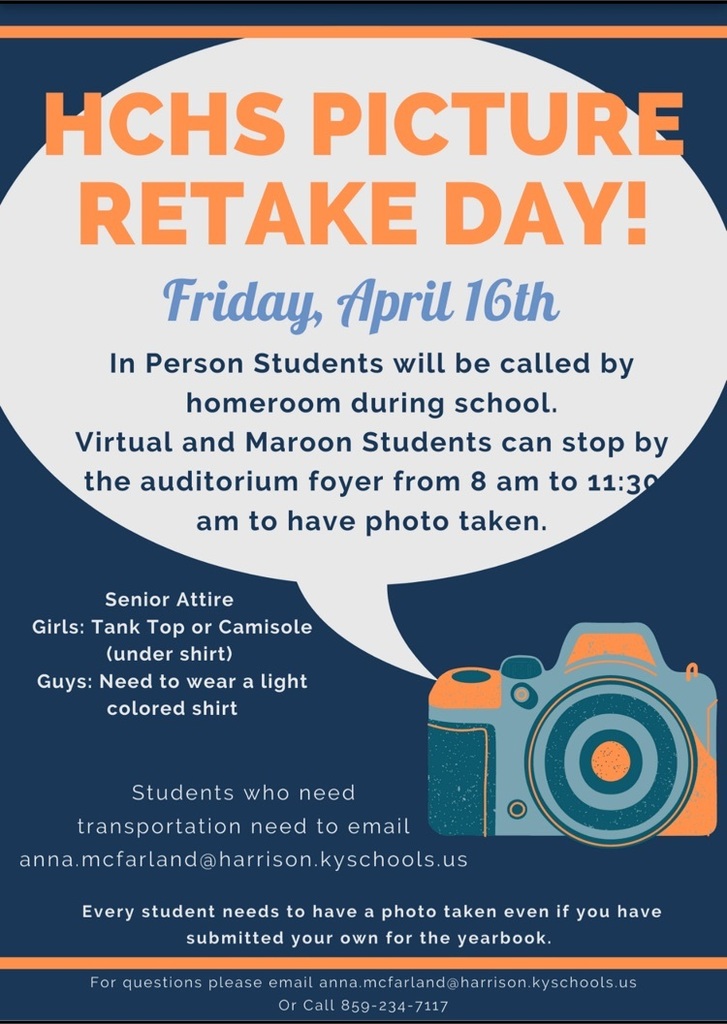 Alive at 25 classes are begin offered via Zoom for students to fulfill their Graduated Driver's Licensing requirement to get their full, unrestricted license. Students can register at
www.kentuckysafedriver.com
or by calling 502-699-2295.

Harrison County High School juniors and seniors: Prom will be held on May 8th at Ashford Acres from 7:30 p.m. until 10:00 p.m. Only HCHS juniors and seniors are permitted to attend. No outside guests will be allowed. Attire may be formal or semi-formal. Due to COVID-19 restrictions, masks will be required. Tickets will be available on Wednesdays April 14th, 21st, 28th and May 5th from 9:00 am.m until noon and on Fridays April 16th, 30th and May 7th during lunch. Tickets are $25 apiece. Please contact Tammy Snider or Tiffany Honeycutt with any questions or concerns.

Picture day for Harrison County High School is this Friday, March 12th. In-seat Gold students will be called by homeroom. Virtual and Maroon students can arrive between 11 and 1 at the auditorium foyer entrance. Temperatures will be taken and social distancing will be enforced. If a student cannot make it on Friday they will need to attend the make-up date on April 16th. Senior girls need to wear an undershirt that can have the straps pulled down. Senior guys need to wear a light colored t-shirt.